CADAS
TRAL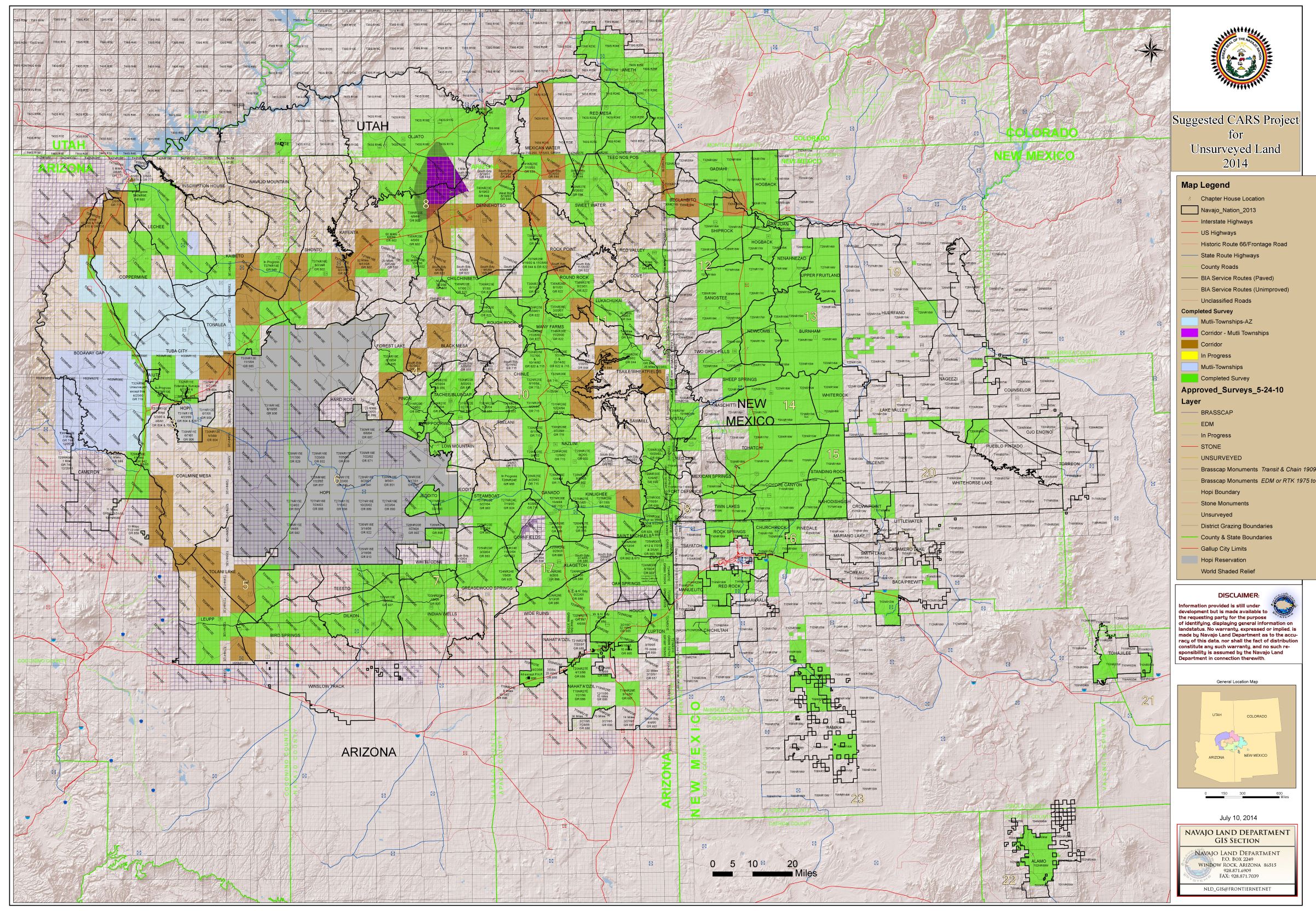 In 1982, Navajo Nation established a Memorandum of Agreement (MOA) with the US Bureau of Land Management (BLM) and US Department of Interior Bureau of Indian Affairs (BIA) to complete cadastral surveys on the Navajo Nation.
The State BIA offices; Arizona, New Mexico, and Utah implement legal surveys to identify townships (section corners and quarter corners) and set brass caps at ½ mile intervals. The brass caps monuments are used to control surveys to locate geographic positions; maintenance and perpetuation of the existing Public Land Survey System (PLSS); and necessary required retracement, resurveys, and surveys of areas requested by the Navajo land Department and BIA.
The MOA allows the Navajo Land Department to send technicians to assist the US Bureau of Land Management — Arizona Office to conduct cadastral surveys on the Navajo Nation. The efforts have been ongoing since 1982; conversely, the concentration was primarily set on Indian Allotment until August 2007. Thereafter the Navajo Land Department initiated a 10-year plan to complete the major developed corridor areas to assist the local governance with the community land use plans in obtaining a legal description for residential, community, and economic development projects.
In the Navajo Land Department master plan 68 townships were identified where residents were awaiting HSL completion and where Chapters still had pending legal descriptions for projects along corridors of major highways for community and economic development. This occurred from no monuments being available to tie surveys, which led to a halt in generation a legal survey for the proposed project.
Most recently, the federal government lifted the Bennett Freeze, which caused the BLM, BIA, and NLD to develop a plan to protract the Bennett Freeze area within the western agency so residents in the area could obtain a legal description for their proposed homesite lease. With the master plan, the Navajo Land Department was able to accomplish more than half of the proposed townships and will continue to strive for the completion of the entire Navajo Nation. With Thanks to the BIA and BLM for coming forth with us in a team effort to accomplish such a huge task and for the continuous funding from the Bureau of Indian Affairs for the Navajo Cadastral Program the Navajo Nation has achieved a major accomplishment.