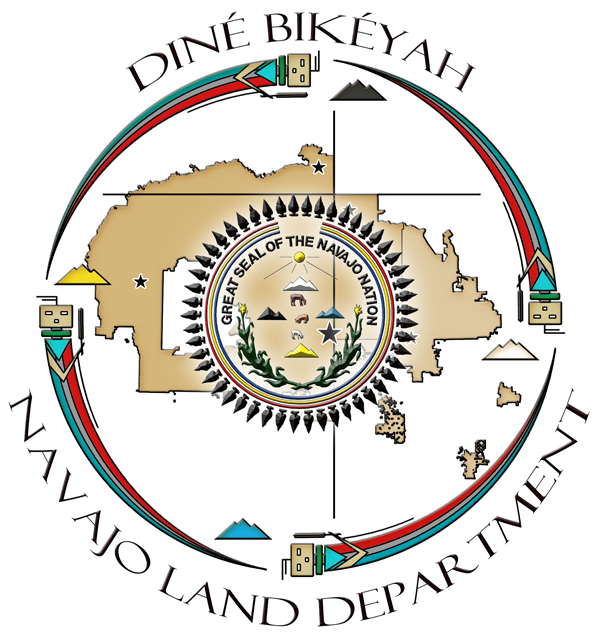 Welcome to
Navajo Land Department
Vision Statement
"Acquire, Record, Regulate, Value, and Preserve Our Sacred Navajo Lands (Diné BÍ Kéyah)"
Mission Statement
"To provide quality customer service by utilizing technology, legal authority, cultural awareness, and continuous education, to insure proper optimum use of real property for all to benefit."



Navajo Land Department and the Agency Offices are closed to the public we are only functioning by phone, email and/or appointments. Masks are required at all times. If you have been exposed to Covid-19 or are sick we ask that you stay home. This is for the time being to be in compliance with state and tribal requirements and, most importantly, to keep the public and NLD staff safe. We kindly ask you for your patience and understanding, many people are inquiring about homesites, so the phone lines may be busy, and appointment schedules may take a while. Please do not let this deter you from contacting our offices. Stay safe, and thank you for your part in bringing our Covid-19 numbers down by wearing masks, social distancing, and abiding by President Nez's executive orders.


GLDD
The Navajo Nation General Land Development Department (GLDD) is charges with leasing authority of Telecommunications; Easements for all Right-of-Ways (Oil & Gas lines, Power lines, Water lines, Service Line Agreements, etc.), Land Withdrawals, Permits, Mission Sites, Permit to Drill and Permission to survey.
Learn more
NLTDS
The Navajo Land Department has established a Title Plant (NLTDS) to record titles, deeds, leases, land conveyances, retrieve trust asset accounting, and ability to store/retrieve records for the entire Navajo Land records. Currently, Navajo land records are being populated into the NLTDS.
NLTDS
Cadastral
In 1982, Navajo Nation established a Memorandum of Agreement with BLM and BIA to complete cadastral surveys on the Navajo Nation. The monuments are used to control surveys to locate geographic positions; maintenance and perpetuation of the existing Pubic land Survey System (PLSS); and necessary required retracement, resurveys, and surveys of areas requested by the Navajo Land Department and BIA.
Learn more
---
Contact Us
FT. DEFIANCE LAND OFFICE is located in St. Michaels
Located next to Navajo Nation Oil and Gas in St. Michaels
2B Taylor Rd., Bldg. #8966, St. Michales, AZ 86511
☎(928) 871-6523 • (928) 871-7229

CHINLE LAND OFFICE
Route 7, across the street from Chevron Gas Station, Westside of Chinle Chapter Complex
☎(928) 674-2056 • (928) 674-2058

CROWNPOINT LAND OFFICE
Located at the Crownpoint Administrative Services Center, across the Senior Citizens Center
☎(505) 786-2376 • (505) 786-2379

SHIPROCK LAND OFFICE
US-64, old NAPI Building, across from the 7-2-11 Food Store and next to Foutz Trading on the corner
☎(505) 368-1120 • (505) 368-1122

TUBA CITY LAND OFFICE
Tuba City Spur Rd, across from the Cavesa Car Wash and next to the old Police Station.
☎(928) 283-3194 • (928) 283-3195

ANETH LAND OFFICE
Across from the Chapter House.
☎(435) 651-3504


---